<! ----------------START of MID LEFT Section------------>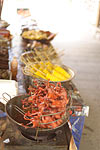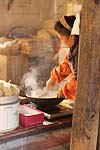 I sat down for lunch at one of the food stalls along the 天子山Tianzishan mountains. The woman recommended that I tried one of these little wild chickens (or some sort of quail), call 野斑鸡. I can't be sure that it is wild, but its size won't fill me. On the stone steps I saw the more familar chickens running freely. So I asked for one of those. But unfortunately those goodies are reserved for themselves.


Wonder what this might be?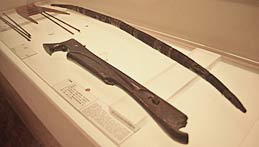 This is the bowgun found in the tombs of 马王堆Mawangdui. Mawangdui is a burial site in 长沙Changsha, the provincial capital of 湖南Hunan. Three tombs from the 西汉朝Western Han dynasty (206 BCE - 8 BCE) were unearthed in 1972, and most of its artifacts are now housed in the 省博物馆Hunan Provincial Museum. Among some 3000 priceless objects is this 2100-year-old Han weapon. It is a modular design made of three components: The wood gunbody, the casted three-piece metal trigger (which is inserted into the gunhandle), and the bow (which attaches in the front of the gunbody).



Candle lighting at the 凤凰城Feng Huang's Old Town. The old woman sold paper pedals with candles for one yuan each. I brought a green and a red one, and threw them on the river, but the pair never seem to be able to go far. People push the water to move them outward, but you really need a boat.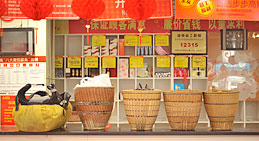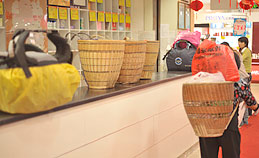 Check your bags — or baskets. The 土Tu people carry baskets to hold their goods. Here at a supermarket in 张家界Zhangjiajie, the baskets are checked at the counter.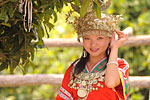 These beautiful 苗Miao ladies with their exquisite silver headdresses and necklaces generously pose for me atop the 天子山Tianzhi Mountains.

Thieves, bats, chilly winds — an overnight stay at the 司马台长城Simatai Great Wall. I will tell you all about it later.
<! ----------------END of MID LEFT Section------------> <! ----------------START of REGION IMAGE Section------------>
<! ----------------END of REGION IMAGE Section------------>
This section is for poems I enjoy. They are my translations, and I do them when I have the free time. See more translated Chinese poems.
夕阳楼1 — 李商隐

(812 - 858)

唐朝 (618 - 907)

花明柳暗绕天愁,

上尽重城更上楼。

欲问孤鸿向何处,

不知身世自悠悠。

Xiyang Tower (Sunset Tower)1 — Li Shangyin

(812 - 858)

Tang dynasty (618 - 907)

Bright flowers, shaded willows, gloom all over the sky,

To the end of the city wall and up the tower.

Should I ask: "Oh! Lonely goose -- where are you heading to?"

Don't know what the future holds for me -- still fluttering.
1. 夕阳楼Xiyang Tower (Sunset Tower): 位於河南郑州市,但现在不存在。Located in Zhengzhou city of Henan Province, but no longer exist. One of the most well-known towers during the Tang and Song dynasties. It survived to the Qing dynasty. The poet wrote this short poem at some time during the Autumn of the ninth year of 大和Dahe reign (835), when he was in his early twenties. He was then an aide to an admiring official in Zhengzhou city. The tower was located within the outter city wall.